Discover more from Art of the Day and Stuff with Jo Potocki
Hi, I'm Jo Potocki. A self-taught artist in exotic Toledo, OH. I share paintings, history, paranormal, weird news, and more. And watch for my occasional one-minute art shows - perfect for the impatient. See ya!
Post-Fever-Dream Art
The flu sucks
Good Morning and now we are into Spring.
I don't know about you but I am over the far too long Winter. I've had the flu the last several days, and don't worry, I wanted until I was fever-free to write this so this Substack is not contagious. I've had some crazy fever dreams and I thought I would share some artworks that I have little to no explanation for. Sound fun? Okay!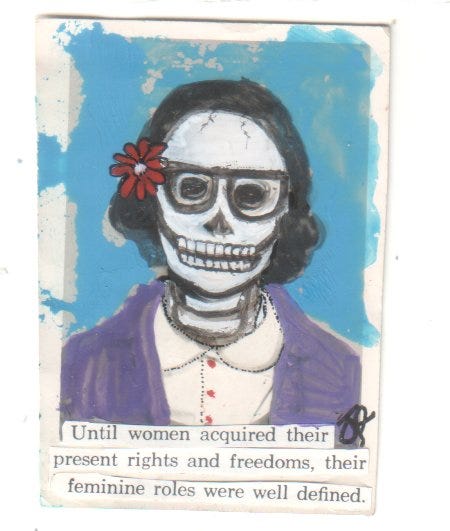 The middle gif there of the condom art - is exactly that. Our friend left a suitcase on our back porch and it sat there for like, oh a year or so and we opened it since he obviously wasn't coming back for it. It was filled, and I mean FILLED with expired condoms. So we started talking about funny names for condom brands and boom about 100 paintings happened - weirdly enough collectors snapped them up too.

The painting on the lower left is from a terrible dream I had about my toddler son running and falling into a septic tank drainage pit. He was 15 years old when I had this dream, I have zero ideas why it happened but it was horrifying.
All of these pieces live in private and public collections - if you would like to see currently available art -

go to my art store!
Art of the Day with Jo Potocki is a reader-supported publication. To receive new posts and support my work, consider becoming a free or paid subscriber.